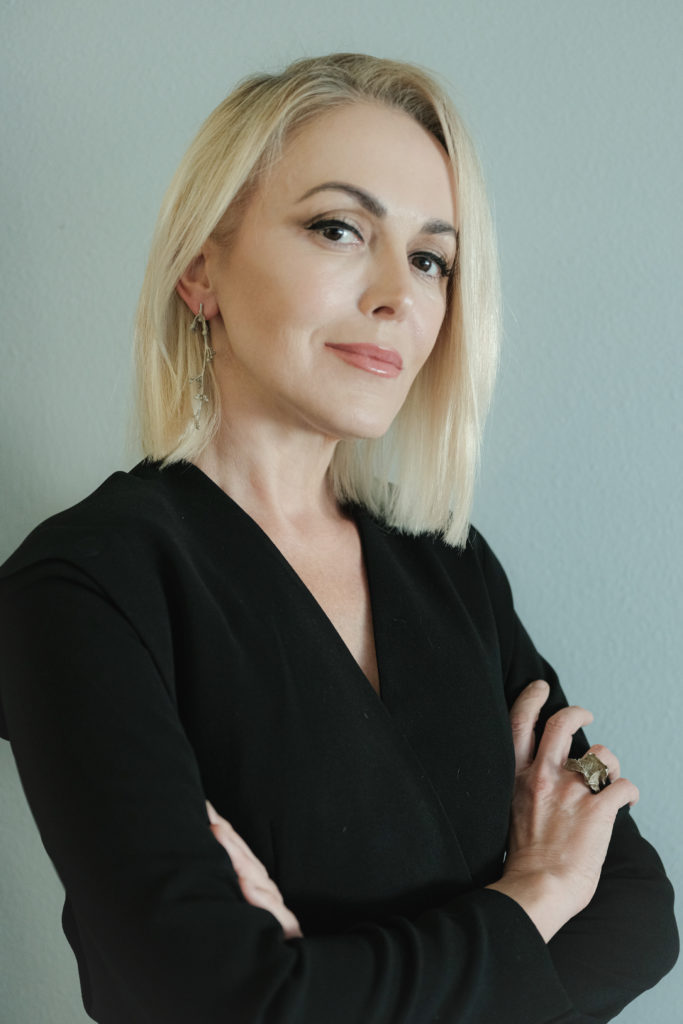 Angelika Kollin (b. 1976) is an Estonian award-winning photographer who is currently based in Tampa, Florida. Kollin sits down with Uncontaminated to discuss her art-form and pivotal moments in her path as a photographer.
Kollin has spent eight years living in African countries (Ghana, Namibia, and South Africa), where she explored the same topic in various cultures and economic conditions. Through intense artistic evolution, she has arrived at her current and ongoing projects – You Are My Mother/Father and the Song of Psalms. Angelika's work has been exhibited in New York, Barcelona, Helsinki, Rome, Berlin, Paris, Japan, and South Africa.
1. Was there a defining moment when you reached a decision to photograph and to incorporate the practise more permanently in your everyday life?
For me it was directly proportional to the age of my three children. It was crucial for me to be fully available as a parent, so only in the last 4-5 years have I given myself almost entirely to my lifelong passion for photography. The kind of photography that I feel pulled towards and, best to my ability create, requires my full undivided attention. I can safely say – it is a way of being and a lifestyle. There is no longer any detectable line between my everyday life and photography.
2. Tell us about your background? How has this shaped your practise?
My background has a strong influence on my work, as in many ways, I consider my body of work to be autobiographic. Some aspects of my childhood growing up in the Soviet Union, youth, and adult life, are deemed complex or traumatic, yet these mechanisms fine-tuned the artistry I am known for now.
I experienced immigration and the loss of my sense of belonging to a community at 14 when we left Estonia in search of a better life in Germany. That is undoubtedly why my audience often finds me photographing immigrants and their longing for home. I have lived in many countries and continents, including: USA, Spain, Ghana, Namibia, and South Africa. This has enabled me to have experienced life in various socio-economic conditions, which has helped me gain a broader understanding and deeper compassion. Another apparent "mirror" of my background is my most known project, "You are my mother," which reflects and revisits a complex and fractured relationship with my mother.
I didn't have formal photography training until recently, so I consider myself largely self-taught. In late 2021 I started attending a two-year-long documentary photography course with Fotografika, an online school based in Sankt Petersburg, and simultaneously studying toward BFA in Tampa, USA where I currently reside.
3. Are there any artists in particular that have inspired your practise?
American painter Andrew Wyeth (his Helga paintings), and a South African photographer Roger Ballen, have had the most decisive impact on me. I remember how the moment I found their work, something instantly shifted inside me, and there was no going back. Nowadays, I am finding the most inspiration in real people and their stories, whom I have the honor to photograph.
4. How would you define fine art photography?
It is a tough question, as I believe most old definitions have lost their validity. I think I would call it the photographic process through which the artist can bring forth their innermost thoughts and emotions, creating a visual that communicates with the viewer. Fine art photography is not seeking to be a direct representation of reality, but more a window into the photographer's unique perspective on it.
5. Can you walk us through your process?
My process is straightforward and solely relies on intuitive guidance. While it can be very challenging due to all unpredictable factors, such as the weather, it leaves me enormous room to discover a story or an angle I would most likely miss had I kept my focus on something definite.
My best work, is "accidental" by most standards and yet very consistent in a particular meditative approach.
Mediation is what I do before and sometimes even during my creative process. That is one step that I never skip and consider essential. From this point onwards, I am guided by what emotions present themselves in a creative space that invisibly and yet perceivably opens between my protagonist and me.
We allow ourselves to "attend" authentically to the given moment with everything in it. There is no goal set or results anticipated other than to witness the person in front of me and honor their story. My sessions are surprisingly short, rarely lasting longer than 30 minutes.
6. There is an increased focus on the intersections between art, environmental, sociocultural, and economic awareness. How do you see yourself interacting with this discourse?
While not all my projects will fit into these parameters, most of my work is weaved in tight, joining with all these aspects. My body of work organically reflects these intersecting themes because telling someone's story completely is only possible by recognizing, understanding, and including all components.
7. How has your personal style evolved and changed overtime?
By merging artistic and spiritual pursuits, I found the deeper aspect of beauty in life. Though it may sound cliche, this truth revealed itself to me. My newfound understanding has caused me to no longer seek beauty in just what society deems beautiful. Instead, I find it permeating every aspect of life, from the hardships and struggles to the joys of love and happiness.
Inevitably, my photography underwent a massive transformation as this new understanding percolated my old views. It lost its complexities, and I started to focus on the emotions and the intangible essence of a greater force at play. My eye shifted away from searching and photographing physical form to capturing the essence of what lies beneath.
8. What do you consider to be your biggest professional achievement?
In omitting the more obvious angle, of awards, publications or exhibtions, my most notable achievement is that I can empower and honor people who don't always have a voice or audience. In a rich-and-famous admiring society, we often overlook the contribution of hardworking people who make our communities function. In recent years I have been increasingly able to celebrate them as appreciated and treasured members of society and let them be seen.
9. What advice would you give someone who would like to become a photographer today?
My advice is simple:
Do not take up photography unless prepared to delve into the depths of emotion. To feel more deeply than you ever thought possible. Do not do it unless you have the bravery to peer beyond the surface and truly examine the essence of life. Do not do it unless you are willing to fall in love with the storytelling. Do not do it unless you are ready to embark on a journey of self- discovery through the very lens through which you are looking at the world.
10. Are there any future projects that you are working on that you would be happy to share?
I recently started working on two new documentary projects around Florida. They are a tribute and study of this unique and, at times, wild state. As usual, I aim to shine a light on the universal human experience, revealing the common threads that bind us all, despite the myriad forms and circumstances that shape our lives.