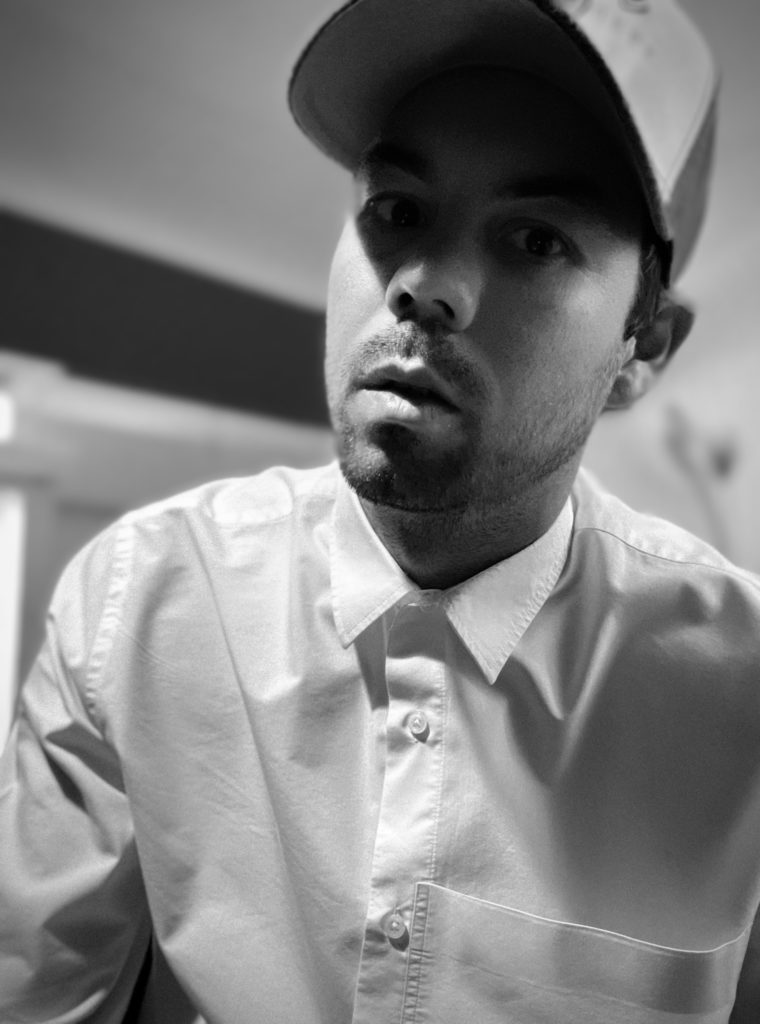 "Born under the sign of Pisces, I imagine the exchange of works of art in real-time in social spaces that can bring together people willing to listen and see, without simply standing by to watch."
---
As the founder of uncontaminated.co why don't you tell us a bit about yourself and why you decided to enter this venture?
I have a background in IT studies, after which I gained experience working for my family-run fashion company. After years, I branched out to a different field becoming a marketing and communication manager and this is where the continuous exchange with artists, designers, photographers, and managers helped increase my expertise continually evolving thanks to business various practices. The union between art and technology where the latter is at the service of artists, collectors, and art users is the combination that best reflects my persona, my way of living, and seeing things. All this, in a nutshell, is a system capable of uniting art and people, all of this is in other words: Uncontaminated.
How does the platform work exactly and what are the main benefits for artists and collectors?
The platform aims to remove filters, becoming a fusion between art and people made possible thanks to the recent technology that is developed through the blockchain. Today we can create works of art, regulated by contracts, which give rise to assets whose value is unique. An image or a video, therefore, becomes a work of art because it is made unique thanks to the blockchain which certifies its authenticity and therefore its value. Imagine the "Mona Lisa" and how many non-authentic copies exist void of value, while only one has a special and indecipherable value, that of Leonardo Da Vinci exhibited at the Louvre. Suppose now that it is stolen and returned together with the other perfectly identical copies, no one knows which is the original and which are the fakes, what value are we talking about now? This is to say that a work expresses all its value thanks to its certification of originality, exclusivity and the technology in question is currently the safest guarantee system online. As mentioned before, in addition to the creation of the work and its digitization, we also have the possibility of integrating contracts into it. These are probably the most exciting thing in the whole process, why? Let's think, for example, of royalties, that is, rights to the work (monetary) received by its author every time it is resold generating constant revenue for the artist. A bit like music rights that you pay for streaming a song … This in my opinion solves one of the main problems of the traditional system. On the other hand, a collector has the opportunity to purchase a work and become the owner. The work itself will remain exhibited in Uncontaminated and visible to anyone. Anyone will then have the opportunity to make an offer and become the new owner at the speed of two clicks. Another huge problem solved, is that works do not remain hidden in some basement but rather, are immediately accessible by everyone. We can think of a system that gives value back to images and videos, the transformation of consents (likes) to gain (money). These are just some of the most important problems that Uncontaminated wants to solve and several other innovations are too premature to reveal to you now.
Seeing as you are a start-up in what phase of the work in progress are you at the moment?
The platform is currently in its first phase, Phase 1 of the Columbia project. In this phase, open registration is closed, neither artists nor collectors can register directly. We are directly inviting selected artists for the time being, who will receive important benefits because they are the first to believe in the Uncontaminated project. All the phases are however well outlined by the whitepaper, a document that is the basis of all our future developments.
Where do you see the future of uncontaminated going from here on?
It is difficult to determine the future of a project. We have outlined the objectives so that they are achievable and quantifiable and this is the most pragmatic approach we could have in a project that is a pioneer in a new art market and which will therefore face many difficulties that are inversely proportional to the possibilities of development and expansion. Born under the sign of Pisces, I imagine the exchange of works of art in real-time in social spaces that can bring together people willing to listen and see, without simply standing by to watch.
Why do you think NFTS, SMART CONTRACTS, AND BLOCKCHAIN TECHNOLOGY are something artists should be aware of at the moment and how can they increase their sales this way and affect the art market in general?
I think that every new opportunity must be carefully evaluated, both for its business potential and for the values ​​it brings with it. In our case, we are faced with new technologies that for many are similar to the "birth of a new internet". This must at least make us aware of whether to take part in this new progress or not. Everyone is free to choose the best path for their art. Certainly, no contract is signed with us, we are not an agency or a gallery. The people we are inviting have no registration costs, no NFT creation costs, it is he or she who decides the price of their art and will receive lifetime royalties for every sale after the first one … now, why not?
In a digital era, a platform like yours gives you many opportunities to enter an international market, is this one of your main goals, if so how do you aim to expand?
The very nature of Uncontaminated is to expand worldwide and as fast as possible. It is a system created online and although the founders are Italian, it has been designed with a global outreach. Future collaborators could come from all over the world, smart working has made this possible. This is why we immediately thought of English as the first language adopted by the site and the selection of the first invitations was made by inserting artists from around the world. Of the very first 12 artists, only 2 are Italian, the others come from Mexico, Brazil, South Africa, France… This is synonymous with international expansion. Clearly, marketing and communication will also guide the expansion process. We have defined priority development areas in which to invest but this does not preclude a continuous opening to everyone, in all markets.
Why did you choose to dedicate your platform solely to photography and video art compared to other popular platforms such as Opensea and Superrare which focus on digital art in general?
Our desire to dedicate ourselves to photographic and video art stemmed from the idea to solve those problems that today exist in the traditional art system. Superrare is a fantastic project that has allowed the resale of digital works, works that until recently did not even have their own market. For us it is different, there is clearly a market for author's photographic art and we do not even want to try to replace it or compete with it, on the contrary … our will is to create an extra system. Something that didn't exist before and that can be an additional opportunity for artists and collectors. I also want to quote a passage from the white paper: "The last decade is that of the explosion of content. Images and videos are constantly under our eyes. … Although this has a certain meritocracy in itself, it deprives the artist, whoever he or she is, of economic value by reducing their work to be self-referential. However, if he or she is given the opportunity to sell that art, the pattern is reversed. If anything, self-referentiality becomes self-promotion directly linked to content. "
How can photographers benefit from creating an NFT of their original work?
By creating an NFT you create an asset that is the digital work signed by the author and certified on the blockchain. Anyone who wants to see who the author is and the history of prices, owners, and all his/her information can do so in a simple and most importantly, transparent way. There is no possibility of counterfeiting, replication, or fraud. The price history is clearly visible, as is the entire list of previous owners. This is a huge value for those who buy and resell, consequently a value for the artist who will see his work grow in value and since the value of an artist's work is determined by his notoriety and his history, we have come full circle. . All this leads to the sale of works and therefore an advantage for the artist who, in addition to selling his work, will receive a percentage of royalties on each sale following the first one, this is a truly enormous gain among others tied to advantages and regulations, of a right that was inexistent before.
What cryptocurrency or methods of payment will you use for the transactions/payments in the marketplace and what are the advantages?
We immediately decided to allow payments in both cryptocurrency and fiat currency. It makes no difference, indeed this allows us to expand also to collectors who do not hold cryptocurrency. This is a great advantage because I want to clarify that here we are not talking about crypto coins, such as bitcoin … We must not confuse things, cryptocurrencies are born for various reasons and have a blockchain at the base, here we are within the blockchain technology that allows us to create NFTs.
Give us five reasons why an artist should subscribe to uncontaminated.co
I think I mentioned at least 5 of them above, but I would like to ask each artist just 1 reason as to why not?